You can redeem for special gifts*





Your Type 1 policy includes*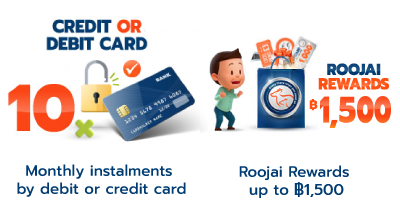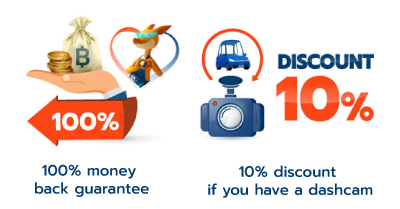 Terms and conditions
Buy insurance with Roojai.com and share the experience on Facebook to get up to 1,500 Roojai Rewards (Minimum value ฿1,500 for New Roojai Customers only).
Each referral (new Roojai customers only) gets an additional 100 Roojai Rewards (Minimum Value ฿100) when they buy their first Roojai any type of policy via Referrer's link (Existing Roojai customer).
Terms and conditions apply. The company can change the conditions without prior notice.
Roojai Rewards will expire 15 months from the credited date
Roojai.com reserves the right to revoke gift cards for customers who cancel their policy.
Roojai.com reserve the right to cancel any order which does not comply with the determined terms and conditions, as well as reserves the right to amend or revise any terms and conditions under promotions without prior notice. In the case of a dispute, the company's decision is deemed final.
If you have further questions, please call 02 582 8866 (Mon-Fri 8: 00-20: 00/ Sat - Sun 9: 00-18: 00 - closed on public holidays).