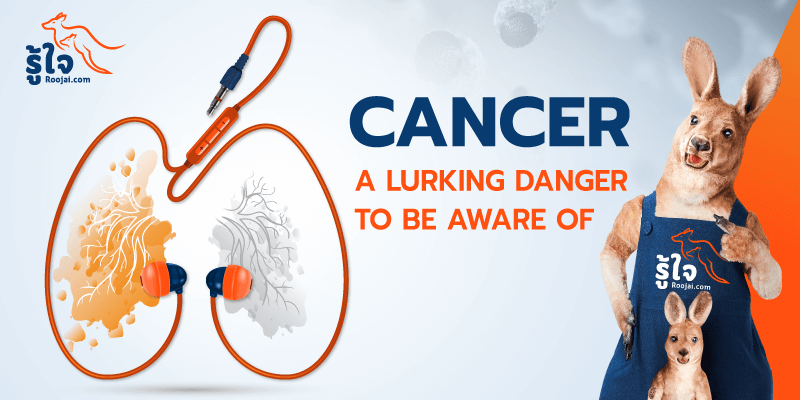 Cancer is an important topic that has garnered massive attention in recent years. There is increasing interest in cancer insurance among those who are aware of the deleterious effects of the critical illness. Cancer is the leading cause of death in Thailand with many types of cancer that can develop at any age and in any organ or tissue of the body. Even though there are various cancer treatments, there is no consensus on whether cancer can be cured completely. To top it off, the medical expenses for cancer treatment are staggeringly high.
Online cancer insurance is a type of critical illness insurance that you can easily buy online. Roojai offers plans that allow quick purchase under conditions that can give you immediate insurance coverage. With cancer renowned for its hefty medical bills and long-term care, having cancer insurance can play a significant role in footing the medical expenses should you fall victim to this disease.
Where can you buy cancer insurance online with a fixed premium?
It's easy to buy cancer insurance online with Roojai's simple platform and comes with a fixed 5-year premium. You may apply for and purchase the insurance online. More importantly, Roojai online cancer insurance comes with a special condition that offers instant coverage the moment you complete your application. Additionally, not only is the insurance premium affordable, but it is also a fixed rate. Although getting cancer insurance may be on the back burner for many, being prepared for the worst can give you tremendous financial stability and peace of mind.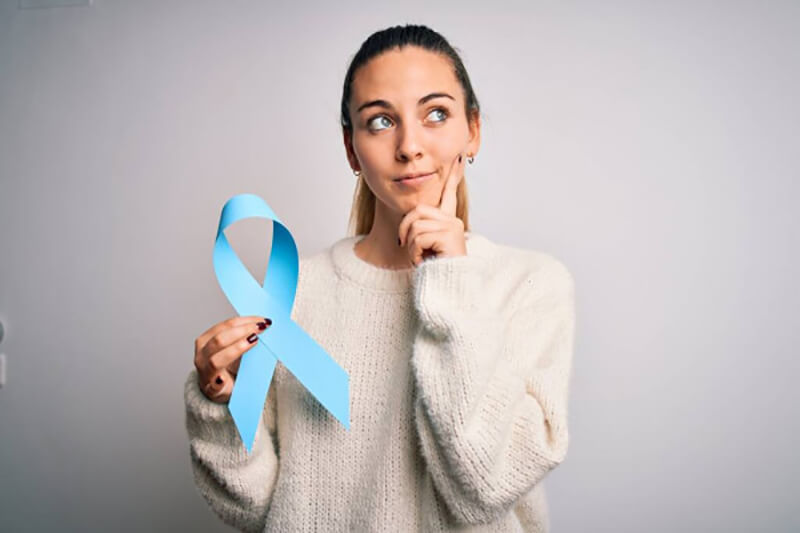 What causes cancer?
In this modern day and age, we know that the risk factors for cancer are not just limited to heredity or family history. It has become clear that the cause of cancer is linked to an array of other factors such as personal lifestyle, food, age, chemical exposure and sunlight. Therefore, buying cancer insurance is one of the best ways to plan ahead and prepare for an expensive disease that does not discriminate. With cancer insurance, you stand a better chance at receiving medical treatment while safeguarding yourself against rising medical costs.
Cancer insurance is designed to provide cover in the event the insured receives a cancer diagnosis. Online cancer insurance will help relieve the patient's financial burden in many areas including surgery costs, chemotherapy costs, cancer drugs and medical examination costs. Our cancer insurance comes with many more benefits which we will now go over. The following are details on coverages and useful facts on online cancer insurance, whose premium starts at just 5 Baht per day.
What coverage does insurance provide for cancer treatment ?
Online cancer insurance covers the expenses mentioned above. This includes medical fees, test fees and check-up fees at each stage of medical treatment as well as the unfortunate circumstance of death from cancer, of which conditions and compensation will vary depending on the chosen plan.
Choose from many premium options
Another advantage of getting cancer insurance that pays a lump-sum compensation is the ability to choose from multiple insurance plans according to your preferred form of coverage and limit. Different coverage limits are available for items such as hospital room and board charges, medical expenses and daily cash benefits. You should review these conditions carefully so that you may select a plan that best aligns with your income and budget.
What stages or types of cancer does cancer insurance cover?
Lump-sum cancer insurance provides coverage for all stages of cancer after you have been diagnosed. No matter the stage of cancer, rest assured that you will receive comprehensive coverage as outlined in your insurance policy.
Buy cancer insurance online with Roojai
Now that you are aware of the benefits of getting cancer insurance at this time of increased health risks and expenses, we would like to talk about our offerings at Roojai. At Roojai, we provide cancer insurance that you can purchase online quickly and conveniently.
Roojai online cancer insurance is true to our concept – it is simple to buy at an affordable price. It may surprise you to know that cancer insurance does not have to be heavy on the wallet. Our premiums start at 5 Baht per day and once you make full payment for the policy period, we guarantee a fixed premium for 5 years. The cherry on top? It only takes 5 minutes to buy.
At Roojai, our online cancer insurance aims to protect you and your loved ones from the financial hardship associated with any type of cancer. Once you receive a cancer diagnosis of any kind, we immediately pay out a lump sum for your medical treatment, so that you can focus on recovery and get back to living your life.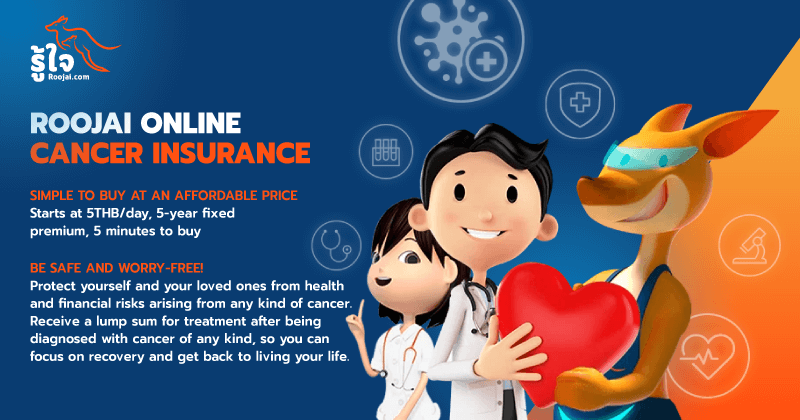 Roojai online cancer insurance plan
The insured must be between ages 18-60 years old (the policy can be renewed until the age of 65)
Pay a fixed premium for 5 years
Apply quickly and easily by answering some health questions
Coverage includes all types and stages of cancer. Lump-sum compensation is paid out immediately after you are first diagnosed
Lump-sum coverage of up to 3,000,000 Baht for any type of cancer and up to 300,000 Baht for skin cancer, depending on the selected plan
Receive your policy documents within 2 weeks after application
Premium payment is eligible for up to 25,000 Baht tax deduction, depending on the taxation law
If you are ready to buy our cancer insurance online, you would be happy to know that the payment process is a breeze. You can easily and securely pay with a credit or debit card. Renewal premium payment can also be done online for continuous insurance coverage. To ensure you get continuous coverage, simply make your premium payment on or before the renewal date or within the grace period (30 days from the payment due date).
How will your online cancer insurance provide you coverage?
The process is not a complicated one. Once you are diagnosed with cancer for the first time by a physician, whether that is invasive cancer, non-invasive cancer or skin cancer, as long as the diagnosis comes after the waiting period (90 days) and during the policy period, the company will pay the compensation according to your policy.
In terms of premium, as we have mentioned, you will pay a fixed premium for 5 years and receive coverage for those years. The premium will be recalculated every 5 years. For example, if you choose a plan that offers up to 1,000,000 Baht of coverage and that plan has an annual premium of 4,200 Baht, you will pay a fixed premium of 4,200 Baht per year for 5 years.
For those of you who are interested in buying cancer insurance online with Roojai, you can go to our website and complete the process in just 5 minutes. Get a quote for online cancer insurance, choose your preferred plan and make the payment. After you have completed the online application, our staff will contact you to confirm your information and purchase details.
Purchase of our cancer insurance is limited to 1 policy per person. You may cancel the policy without any charges within 30 days (when buying via telesales) or within 15 days (when buying via online channel) from the day you receive the policy.
So, if you are looking for online cancer insurance and do not know what plan to get or even where to start, start at Roojai. We have prepared different insurance plans for you to browse and choose from. Protect yourself from the lurking danger of cancer. Get Roojai online cancer insurance – maximum coverage that is simple to buy at an affordable price.
To receive our newest updates and promotions, follow us on our Facebook Fan Page: Roojai or click to add our Official Line.