Nicolas Faquet, CEO and Founder of Roojai
Roojai, a leading Thai-based online B2C insurtech, has continued its strong growth during FY23 – the financial period from April 2022 to March 2023, collecting over THB 1.3 billion in premiums in a year which also saw a Series B investment of $42m and the acquisition of FWD General Insurance (FWDGI).
In addition to increasing premiums by 20%, customer numbers also grew by 15% at the end of financial year 2023 as Roojai managed a higher claim volume while maintaining high customer service ratings for its high-quality service.
In March, Roojai secured a $42M Series B funding round led by HDI International, the International Retail Insurance division of the German Talanx Group, with additional participation from existing investor, the International Finance Corporation (IFC), part of the World Bank Group.
This was followed by the acquisition of FWD General Insurance Public Company Limited in July 2023. As a result of the acquisition, Roojai has become a full-stack insurtech with a licence to underwrite general insurance products and has opened up new distribution channels across Thailand. In the next year, Roojai plans to expand its network to reach more traditional customers upcountry. The company expects 40% of its future business to come from insurance brokers and agents, while 60% will continue to come from its Direct-to-Consumer model.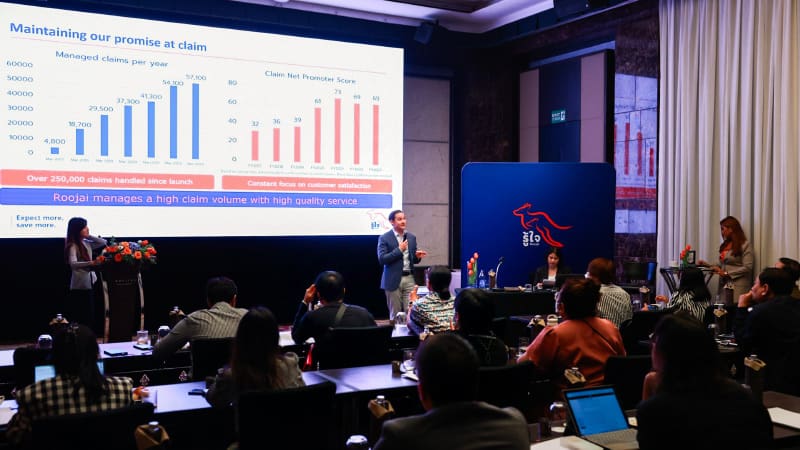 Its first steps as an insurance company will see Roojai relaunch its existing products as Roojai Insurance, before digitalizing existing products in the FWDGI portfolio. With the ability to launch its own products in the future, Roojai plans to expand its two main verticals of property and casualty insurance and accident and health insurance, offering products such as SME insurance, travel insurance, fleet insurance and personal medical insurance over the next two years.
"We have grown continuously since launching in 2016 and now is the time to accelerate our evolution and deliver simple, affordable, and reliable insurance products to even more customers across Thailand. We have built a solid foundation that now enables us to scale up our product offer to cover more categories which will better serve customers in the years ahead," said Nicolas Faquet, CEO and Founder of Roojai.
Roojai also operates in Indonesia in collaboration with Sompo Indonesia, a leading insurance company, offering car insurance, personal accident insurance and critical illness insurance.