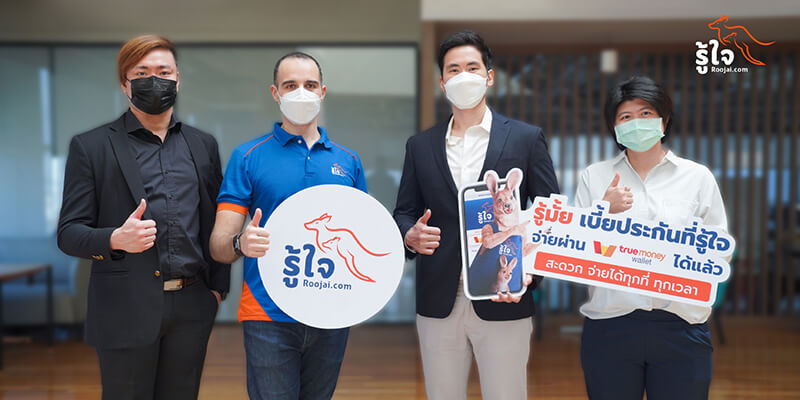 Bangkok, Thailand – 20 October 2021: Roojai, Thailand's leading online insurance website, has further expanded its payment network by partnering with TrueMoney Wallet, Southeast Asia's leading electronic payment and financial service platform serving over 20 million users in Thailand. Customers can now buy Roojai insurance policies anywhere, anytime and pay from the convenience of their smartphone with TrueMoney Wallet.
Roojai customers can pay conveniently and securely by using their TrueMoney Wallet account to pay by simply entering their phone number and confirming the payment using a one-time password sent to their phone. Since the outbreak of COVID-19 digital payments in Thailand have quadrupled, according to the Bank of Thailand1 .
Mr. Federico Brandi, Chief Marketing Officer at Roojai, says, "Partnering with TrueMoney Wallet to expand our payment options is just one way we have been helping our customers during the pandemic. Over the last two years Thailand has accelerated its journey towards becoming a cashless society, and there have been many changes to the way our customers pay for products and services. Our aim is to provide simple, affordable and reliable insurance products by blending technology and innovation, so our partnership with TrueMoney Wallet make perfect sense as we have similar goals. With this new payment option for our customers can pay securely at their own convenience."
Mr. Koravut Pavitpok, Head of Commercial, TrueMoney Co., Ltd., reveals, "Our partnership with Roojai has helped both Roojai customers and our 20 million users to access a convenient and safer cashless payment option via TrueMoney Wallet. This also supports Thailand's cashless society that TrueMoney has played a vital role in driving."
Roojai offers a wide range of insurance plans include car and motorbike insurance, personal accident insurance, cancer insurance and COVID insurance. Visit https://www.roojai.com/en for more details and get an instant quote.
1 https://www.reuters.com/world/asia-pacific/thai-digital-payments-surge-pre-coronavirus-level-2021-10-11/