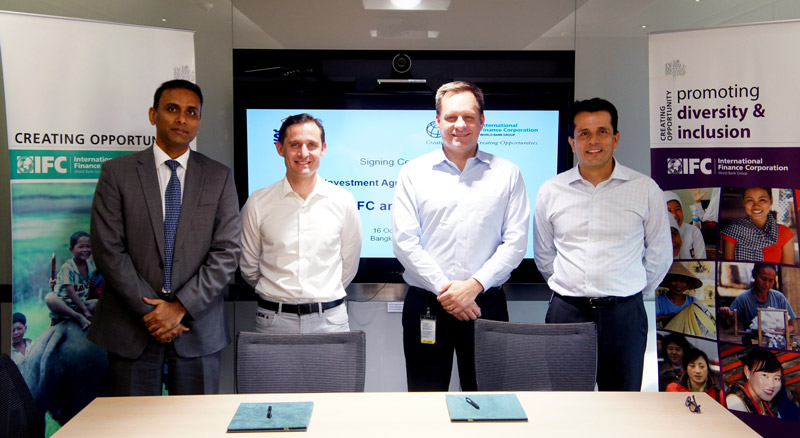 IFC, a member of the World Bank Group, announced a $7 million Series A investment in Roojai Company Limited, an online car insurance platform in Thailand. The aim is to improve consumers' access to insurance in a transparent and cost-effective way.
With almost two thirds of Thailand's population having access to the internet, more Thai consumers are participating in e-commerce and are active on social media platforms. However, with the market heavily reliant on face-to-face interactions with brokers or auto dealers, the use of digital channels to purchase insurance is still in its nascent stage.
Given the scenario, the Series A funds will allow Roojai to accelerate its investment in digital marketing and continue its efforts in developing policies with Krungthai Panich Insurance that reward safe behavior. It will further help the company develop technological systems that improve the quality of customer interactions and lower barriers to insurance access.
In less than three years of its operation, Roojai has reached over 30,000 auto insurance customers through a digital-first distribution strategy, gaining widespread industry recognition.
"We are delighted to welcome IFC as one of our shareholders as we enter a new exciting phase of growth. We are proud that Roojai.com's digital innovations are being recognized in terms of insurance that is simple and easy to buy. We aim to improve financial inclusion through accessible, cheaper, and essential cover for all responsible consumers," said Nicolas Faquet, CEO/Founder of Roojai.
"Thailand's digital insurance channels have significant room for expansion, especially from digital-first players who can effectively implement the digital direct model by leveraging the latest technologies. Our partnership with Roojai is aligned with the government of Thailand's initiative to support inclusive insurance through the Office of Insurance Commission's visionary Insurtech initiative," said Paulo de Bolle, IFC's Global Director of the Financial Institutions Group, and a member of the Fintech Investment Committee.
IFC joins Primary Group—a privately-owned investment holding company with significant expertise in the global insurtech insurance sector—as a shareholder in Roojai. Through this investment, IFC will work with Roojai to further strengthen its corporate governance and support the company through its board nominee and IFC's industry team.
"We look forward to working alongside IFC to support Roojai in its quest to disrupt the insurance market in Thailand and ensure that consumers get better access to cheaper protection," said Primary Group's Chief Operating Officer, Steve Hardy.
IFC has been one of the leading global investors in the insurance sector in emerging markets for many years. Since 2000, IFC has invested in forty-two insurance companies with total investments close to US$2.0 Billion invested. IFC's insurance portfolio includes a full range of sub-sectors, such as reinsurance, life, non-life, microinsurance and Insurtech.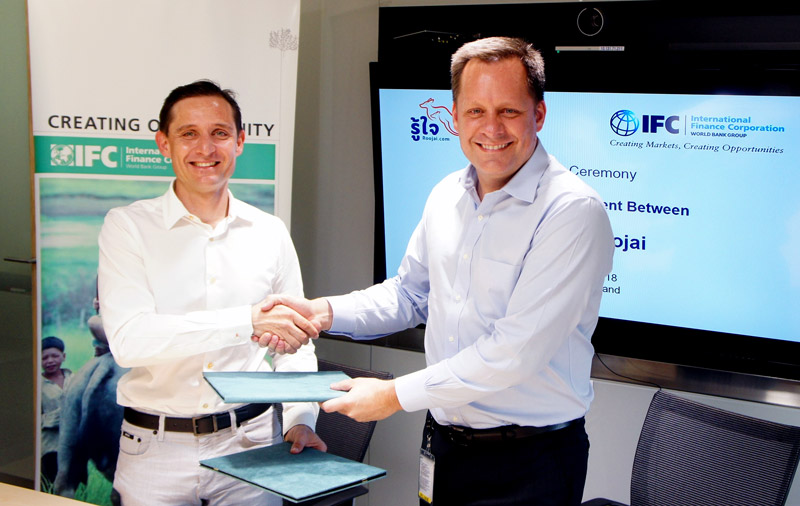 About IFC
IFC—a sister organization of the World Bank and member of the World Bank Group—is the largest global development institution focused on the private sector in emerging markets. We work with more than 2,000 businesses worldwide, using our capital, expertise, and influence to create markets and opportunities in the toughest areas of the world. In fiscal year 2018, we delivered a record $23 billion in long-term financing for developing countries, leveraging the power of the private sector to help end poverty and boost shared prosperity. For more information, visit www.ifc.org
Stay Connected
www.ifc.org/eastasia
www.twitter.com/IFC_EAP
www.youtube.com/IFCvideocasts
www.ifc.org/SocialMediaIndex
www.instagram.com\ifc_org
www.facebook.com/IFCeap
www.facebook.com/IFCwbg
About Roojai
Launched in 2016 to digitize the sales and policy lifecycle for auto insurance in Thailand, Roojai Company Limited is a general insurance broker regulated by the Office of the Insurance Commission. Having partnered with risk carrier Krungthai Panich Insurance and reinsurer Partner Re, Roojai is building a digitally native insurance brand to provide seamless sales and claims experiences to customers. Founded by Nicolas Faquet and Patrick Leroux in December 2014 following roles on the founding team of DirectAsia.com, Roojai is headquartered in Chon Buri, Thailand. http://www.roojai.com
About Primary Group
Primary Group is a Bermuda-based holding company that partners with entrepreneurs to fund, develop and build insurance technology businesses globally. http://www.primarygroup.co.uk