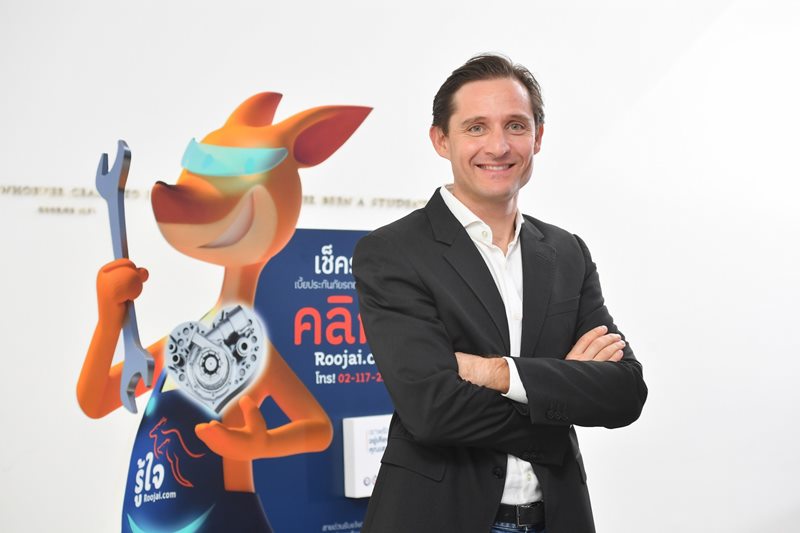 Bangkok, 9 February 2018 – Roojai Company Limited, the pioneer in online car insurance technologies, announced it protected 15,500 Thai vehicles in 2017 – nearly 3 times more than it did in 2016, its first year of operation. Roojai.com's rapid growth trajectory saw it generate 4,700 new policies in Q4 2017.
Roojai.com is Thailand's leading car insurance platform. Partnering with KPI, they offer a comprehensive range of online services to drivers, including five types of insurance to suit different driving behaviours at the best possible price. Drivers can receive cover within as little as 10 minutes of filling out Roojai.com's online application form, significantly reducing the time and inconvenience of vehicle insurance for motorists countrywide.
Roojai.com's unique value proposition also saw its website receive more than 7.5 million visit in 2017 compared to just 1 million the year before, with users generating more than 300,000 premium quotations through the site. A rising conversion rate on those quotations saw the company collect more than 155MTHB in premiums for FY2017.
Mr. Nicolas Faquet, Chief Executive Officer and Founder of Roojai Company Limited, says, "Most people rely on their cars for work, business, and daily life, making simple and fast access to car insurance a must. Despite our relatively recent entry into the market, Roojai.com's latest growth figures show that drivers have not only accepted, but also developed confidence and trust in our platform. We owe much of that success to our network of more than 250 first-class garages, all certified by either the Thai General Insurance Association or U-Klang Insurance, through which Roojai.com and KPI offers top repair services to its customers.
"Even as we continue to rapidly scale up our operations, we remain committed to delivering the excellent customer experience that has so far won over motorists' hearts. This year will see us continue to better our digital platform with enhancements to both online features and our inbound call centre, alongside further additions to our partner network. While our immense growth in 2017 is obviously a cause for celebration, we believe there is still much we can do to make car insurance faster, cheaper, and more comprehensive for drivers of all ages and backgrounds throughout Thailand."
About Roojai.com
Roojai Company Limited is a general insurance broker regulated by the Office of the Insurance Commission (OIC) under the Insurance license number Wor00022/2558.
Roojai.com has partnered with Krungthai Panich Insurance Public Company limited (or KPI), Thailand's leading insurance company under Krungthai Bank Public Company Limited which has much experience and a reliable reputation in the insurance industry. This partnership will pave the way for Roojai as a leading insurance platform in the market, intent on offering the best of services to customers. Truly testifies to our contact center service quality by winning 7 awards from the "TCCTA CONTACT CENTER AWARD 2017" organized by the Thai Contact Center Trade Association
Best Contact Center Social Media Awards
Best Contact Center Supervisor Of The Year
Best Contact Center Admin Support
Best Contact Center Support Professional Awards
Three Consolation Agent Awards
The firm launched in January 2016 with an objective to provide a new fast, easy, digital experience to car insurance through many channels.
Website: www.Roojai.com
Call: 02-582-8888
Facebook: www.facebook.com/roojai
LINE: Roojai