Car insurance is an agreement between a person and an insurance company. Insurance company is required to protect motor vehicle owners from loss or damages in case a road accident occurs.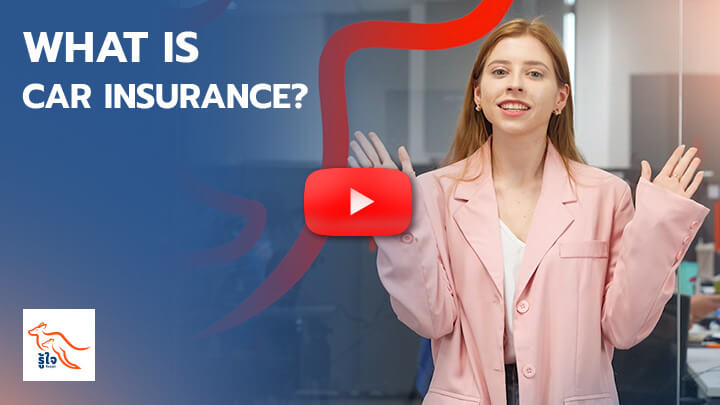 What does car insurance cover?
Car insurance is financial protection for a policyholder in case of an accident, or, another unexpected event that happens on the road.
Typically the most basic type of car insurance is liability insurance. This covers you in case you are responsible for a car accident. It also might cover medical expenses of those who were injured in the accident, property damages, bail bond, and legal fees.
Collision coverage or third party liability for property damage protects you in case of collision by providing a sum insured for repair and replacement of your car. Collision insurance might also protect you in case of an accident without a third party, for example, hitting a tree or building.
Comprehensive coverages provide financial security in case of collision as well as non-collision events. Depending on the insurance policy it may include auto theft, weather, vandalism, hazards, and other natural disasters.
How does car insurance work?
Each insured person pays a premium to the insurance company in exchange for financial protection against certain risks related to driving a vehicle such as damage due to a road accident, or third-party liability.
The insurer assesses the risk of insuring you, including factors such as driving record, age, driving experience, and so on.
If a car accident happens and falls within your policy's coverage terms and conditions, the insurance company will cover a specified amount of expenses, which may include medical expenses, car repair costs, or legal fees.
You can also get discounts on your insurance premium by following road safety measures and getting a no-claim bonus or bundling multiple policies through one insurer. We recommend you read your insurance policy and make sure that you understand exactly what it covers - and what it doesn't.
How does car insurance work in Thailand?
Car insurance in Thailand usually includes two kinds of coverage: Third-party liability and comprehensive coverage.
All motor vehicles in Thailand are required by law to have mandatory motor insurance or "Por Ror Bor." Compulsory car insurance is required for all motor vehicles, including all types of motorcycles registered with the Department of Land Transport. This car insurance provides protection for anyone injured in a motor vehicle accident, whether they are the driver, a passenger, or a pedestrian. In the event of death, the heir of the policyholder will also be covered in circumstances involving a loss of life, body parts, or health injury.
Third-party liability coverage in Thailand covers damage for bodily injuries and loss of life as well as property damage in case you are at fault in an accident, as well as legal expenses. There are 5 types of comprehensive car insurance in Thailand. These include:
Comprehensive insurance coverage is optional and gives you extra protection for your own vehicle, in case of accident, theft, flood, or natural disaster. Additionally, voluntary car insurance might cover the medical expenses you may incur as a result of an accident.
When you purchase your car insurance in Thailand, you should be aware that car insurance policies in Thailand may vary from company to company, so it is important to thoroughly review the terms and conditions before paying for your insurance premium. You might choose to pay your insurance premium annually or based on regular intervals throughout a contract.
Is car insurance compulsory?
Car insurance is generally mandatory and required by law in most countries. So drivers have to buy an insurance policy that fulfils requirements and provides coverage to a certain degree in the country of their residence. Compulsory coverage such as third party liability insurance might be required in order to drive on public roads. In case the driver of the motor vehicle fails to have compulsory car insurance, they may face fines, penalties, or even legal action.
Is voluntary car insurance worth it?
Unfortunately, compulsory car insurance coverage is very limited. Therefore, purchasing voluntary car insurance is recommended. We recommend you to estimate your risks, including natural disasters, car theft, or floods, before selecting and purchasing additional insurance coverage. More comprehensive coverage supports you with higher compensation and allows you to live a worry-free life. Focus on the benefits that voluntary car insurance can provide you, such as:
Liability insurance for harm, bodily injuries or death caused to other persons
Coverage for collisions with a third party
Collision coverage without a third party like with a tree or telephone pole
Additional comprehensive coverage for non-collision damages such as theft, fire, etc
Coverage of medical expenses related to car accidents
Peace of mind and assistance in unexpected road accidents
Remember, voluntary car insurance covers more accidents and incidents, so it might be the cost-effective option for purchasing rather than purchasing add-ons one by one. And, last but not least, customisable voluntary car insurance policies may allow policyholders to design the coverage to their specific needs and budget.
Suppose you are a young driver in a populated area. In that case, you might need to consider insuring your vehicle, as the chances of getting into a road accident are statistically higher than experienced drivers.
Who is covered by my car insurance?
In general, car insurance typically covers a driver, and other listed drivers, passengers, and pedestrians. This means that if you are in a car accident, your insurance will typically provide coverage for bodily injury, and property damages you cause to a third party and yourself, or your passengers. Some motor insurance policies also have limitations on who is covered, such as only covering drivers over a certain age or only covering drivers with a certain level of experience.
However, the specifics of what is covered and who is covered can vary depending on the type of policy and the insurance company. It's important to read and understand the details of your insurance policy before you make an insurance claim.
How is car insurance premium calculated?
The underwriters - people who suggest insurance premium rates based on how likely the insured person will make an insurance claim. Determination of insurance premium is based on various factors that may include:
Good driver score and years of experience: - Good driver score indicates that the driver is less likely to have a car accident and make an insurance claim. Every car insurance provider decides their own criteria for calculating a good driver score. If you have been driving for 2 and more consecutive years without any accident claims and violations, you will score lower rates than a novice driver with an accident history.
Production date and model of your vehicle: Some vehicles, especially older ones or premium segment cars, might have higher costs of spare parts, which directly results in higher repair costs and higher premiums. On the other hand, vehicles with higher safety features such as anti-lock brakes, and airbags - are additional safety features and result in getting lower insurance premiums.
Age and gender of a policyholder: Statistically, it is proved that young male drivers are considered to be higher-risk drivers than older, more experienced drivers and are charged higher insurance premiums as a result. Meanwhile, women are considered to be less likely to be involved in an accident, so their insurance premiums might be somewhat lower.
Residential address: The area of your residence can significantly influence your insurance premium. Underwriters of the insurance company will consider the population density of your area, statistics of accidents, the percentage of crimes happening in your area, as well as traffic trends. For example, big cities have more cars and people, so the chance of having an accident is higher and insurance premiums respectively higher.
Your selected insurance coverage: The higher the insurance coverage you select, the higher insurance premium you will have to pay. This is easily explainable because insurance companies have more risks and responsibility towards a policyholder.
Keep in mind that your insurance provider is the biggest factor in determining insurance premium. Rates for the same motor insurance coverage might drastically vary from company to company.
Tips for choosing car insurance
Car insurance might be a complex topic, but there are some simple tips that will help you to get insurance coverage according to your needs.
Compare prices from several insurance providers to discover the best deal.
Compare rates for car insurance policies between multiple insurance companies and get the best deal.
Before making a choice, take into account the insurance company's reputation. Look into the company's financial reports, customer satisfaction, and claims management.
Raise your deductible, it means that you will have to pay more out-of-the-pocket expenses in case of an accident, but you will be able to sustain lower insurance premium rates.
Maintain a good driving record: follow road safety measures to avoid accidents and use your no claim bonus at the end of every accident-free year to get lower insurance premiums for the coming year.
Bundle your policies: many insurance companies give discounts in case you purchase a few different products with them.
Choose the coverage you might need: consider your driving style, and the type of your car, keep in mind that cars with safety features like airbags and anti-lock brakes will result in lower insurance premium.
If you follow these tips, you can find a car insurance policy that fits your needs and budget. Remember to check multiple insurance companies, compare insurance quotes, and take advantage of discounts to get the best insurance policy for you.
Definitions:
Deductible or Excess Insurance
Refers to out-of-pocket expenses, which the insured person has to pay in case of an accident before claiming insurance
Bundle/bundle deal
Refers to purchasing a few products or services as one unit, usually with extra discounts
Collision insurance
Refers to a type of car insurance that covers car repairs in case you were involved into a car accident
Anti-lock brakes
Refers to a safety system in cars that prevents brakes from locking up in case of sudden braking
Hazards
Refers to potential damage or harm, such as natural disasters