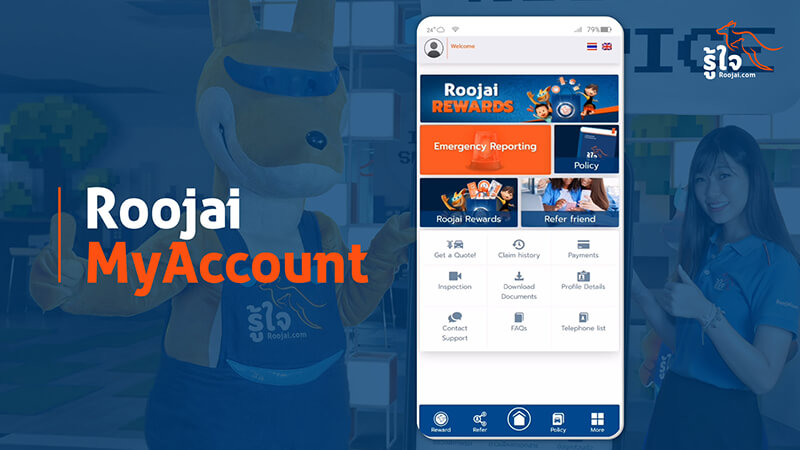 Technology has been changing the way people buy products and services, and the outbreak of COVID-19 accelerated even more changes across all business sectors. As everyone is moving online now, and spending more time using the Internet of Things, it is interesting to see how Roojai.com has leveraged creativity to engage customers and enhance business performance.
An industry-first: 100% online experience
Roojai.com launched its complete online insurance service just a few weeks after the COVID-19 outbreak began, to protect its customers, teams, and maintain social distancing rules.
Customers can now complete their onboarding journeys online using the Roojai Mobile app. The Roojai Mobile app is the only online platform where customers can completely manage their vehicle insurance experience. By using the app, customers are able to manage their account and access all important documents. They can instantly upload and download e-documents, make online purchases within a few minutes, update personal information, and check their insurance policy and payment status, all from their mobile phone. The app goes beyond just managing data, as new customers can also complete their video car inspection with an agent, request Roadside Assistance Service if they have a problem, and report a car accident. Customers can also enjoy their brand benefits such as Roojai Rewards and voucher redemption managed through the app, giving the customer complete control of their experience.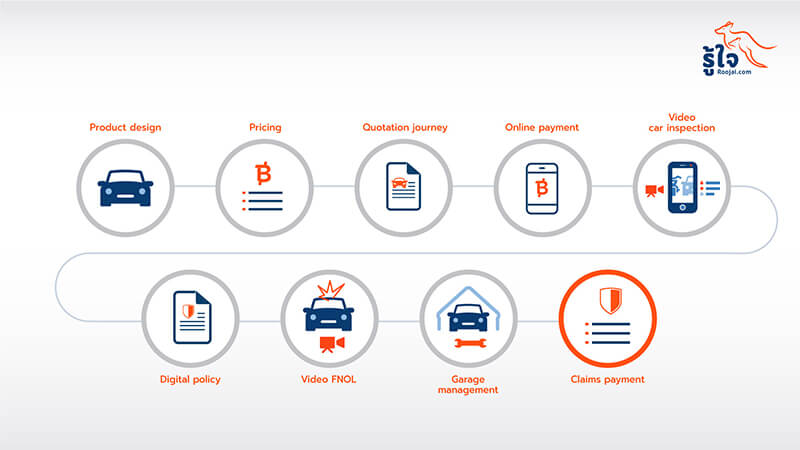 Smart technology for a personalized insurance experience
Customer pain points from traditional insurance are typically about the need to buy a generic insurance plan, which is more expensive and isn't tailored to their needs. Roojai.com is built to serve the differing demands of the customer.
According to Kasikorn Research, Hyper-personalization will be an important business trend during the new normal. Big data management, together with a customer-centric approach, is vital to winning customers' hearts. Personalization can cut 50% off the cost of finding new customers while making 3 out of 5 website visitors more likely to buy.
Roojai.com leverages customer data, including customer age, driving behaviour, marital status, and area of residence to improve sales conversions. Importantly, Roojai.com also allows customers to choose their personalized insurance policy within their budget. Taking a personalized approach means customers can design their personal insurance coverage from a variety of options, such as excess insurance fees, car repair places, or roadside assistance. With the help of technology, Roojai.com is able to offer a competitive price, which can be up to 30% lower than others in the market.
Data-driven creative marketing
Data can empower a creative and personalized message, and this helps the insurer create predictive marketing activities, communication plans, and forecasting trends. For example, the peak time to visit the Roojai.com website is around payday, between 27th and 2nd of the month, and most insurance purchases take place between 10-12 am and 2-4 pm. Understanding these trends means Roojai.com can plan communications more effectively and generate better results. Other important data, like knowing the majority of customers live in the Bangkok / Chonburi and Greater Bangkok area, and that 80% of visitors access the website from smartphones and request a quotation means Roojai.com can plan targeted marketing campaigns.
Fans with benefits
A recent survey of "How to Hook" customers in the digital era by the College of Management, Mahidol University reveals that brand fan club or advocate groups spend more, and produce a valuable source of information for potential customers. Word of mouth is a powerful voice that also helps brands save on marketing costs. It was found that 45% of fans are likely to tell their friends about a product or service they like on an offline channel, while 42% will use offline and online channels. Only 5% of them will do the same on an online platform, and 7% will keep quiet.
Roojai.com has opened digital platforms for customers to provide review and rate its service on the front page of their website and their Facebook fan page, making it very easy for visitors to quickly judge the value of using Roojai.com's service. Potential customers can read Roojai insurance reviews and make a judgment on customer satisfaction before making a purchase. Both positive and negative comments are visible to give a balanced view. So far over 61,000 customers have shared their feedback, giving an average rating of 4.9/5. In return for each review submitted the reviewer could earn Roojai Rewards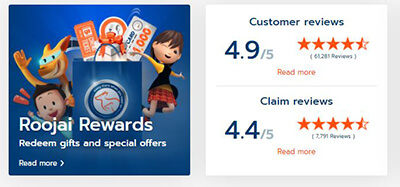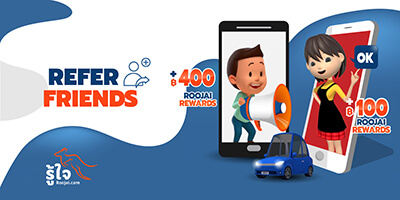 Always looking to use innovative technology, Roojai.com's online insurance has a referral program that issues Roojai Rewards for every successful referral and provides exclusive points to customers, which can be redeemed with other popular business brands and partners. Customers can also create a unique URL with unlimited links and send it to their friends to recommend Roojai.com, allowing them to automatically get reward points with little effort.
Roojai.com's innovative technology and creative marketing practices show that face to face contact is no longer essential for quality service, as long as a great online customer experience is provided.