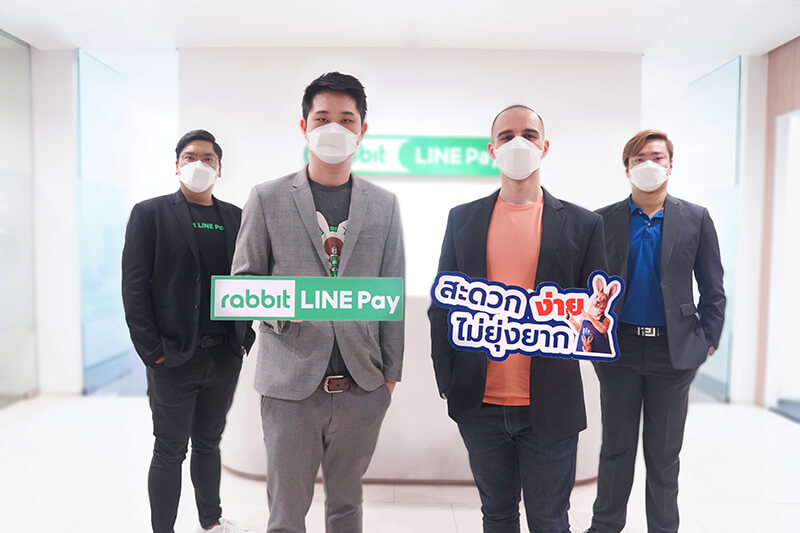 Roojai customers can now pay their insurance premiums via Rabbit LINE Pay
Bangkok, Thailand – 20 October 2021: Roojai, Thailand's leading online insurance website, has added a new payment option for customers by partnering with Rabbit LINE Pay, the digital wallet service provider with over 8.5 million registered users in Thailand. The partnership means Roojai customers can pay their insurance premiums using Rabbit LINE pay seven days a week, 24 hours per day from their smartphone everywhere.
Roojai customers can now pay using their Rabbit LINE Pay digital wallet on LINE application as well as existing payment methods such as credit or debit cards and internet banking. Customers simply buy their insurance on the Roojai website, then select Rabbit LINE Pay as the mobile payment method on a secure checkout page where they authorize and confirm the payment.
Mr. Federico Brandi, Chief Marketing Officer at Roojai, reveals, "Enhancing the customer experience is our key consideration, and in today's digital world customer needs are diverse. Offering a range of payment options for our customers is essential. Partnering with Rabbit LINE Pay allows our customers to pay with what they want, whenever they want, meaning they are able to save time while making safe and secure payments."
Mr. Chanon Chalermwattananon, Head of Commercial Office, Rabbit LINE Pay, says, "We are delighted to partner with Roojai, which is the leading online insurance provider in the country. We are offering an option for customers to pay their premium safely and securely via Rabbit LINE Pay. In addition, this will support a new-normal lifestyle with cashless payment, which is more convenient and secure while also reducing the risk of viral transmission amid the COVID-19."
Roojai offers a wide range of insurance plans include car and motorcycle insurance, personal accident insurance, cancer insurance and COVID insurance. Visit https://www.roojai.com for more details and get an instant insurance quote.